Pastimes in Times Past

These days when we are all missing our organisations, clubs, societies I thought about other times when Bangorians may have had their activites curtailed.
These days when we are all missing our organisations, clubs, societies I thought about other times when Bangorians may have had their activites curtailed. For instance what about the 1918 flu pandemic, or the First World War, how was the local population affected? In the County Down Spectator, first mention of the disease arriving is in June 1918 when cinnamon and quinine are recommended for treatment.
Another report is in January 1919 when there is an article on the Ringland family from Crossgar losing five children in eight days, then some deaths in Ballyholme on 1st March 1919. But no reports of any of the numerous get-togethers closing, no lock-downs, no restricted shopping hours etc. In fact all through the First World War, despite food and fuel rationing, and certain areas being restricted for security purposes, communal pursuits continued as normal.
Public entertainment in wartime Bangor of 1914-18 can be divided into winter and summer pursuits. The town, conscious of its growing reputation as a healthy watering place, was keen on outdoor activities, the most popular being sea-bathing. Much newspaper space was devoted to bathing boxes at Ballyholme, "an improvement on mere grounds of decency", especially after the episode of "birthday suit" bathing reported in June 1918. An extra policeman was put on duty in the meantime to reduce the likelihood of any further scandal. Also discussed at length were diving platforms, the revolutionary idea of mixed bathing, and what to wear when wet.
In May 1914 ladies were advised of the latest fashion in bathing dress. "Black taffeta with pink and white silk crochet buttons, a three-decker tunic carefully wired to get a bunchy effect worn with rose-coloured silk stockings and sandals." After reading this you are quite unprepared for the startling request that "use of bathing costumes made of transparent material be prohibited." At least this avoided the mistake of a later authority which erected an ambiguous notice stating that "MALE bathers are forbidden to roll down the tops of their bathing costumes."
Summer Theatre was another popular attraction. If you did not fancy "Wee Bella" at the Palace Pierrot Show, then you could go to Mr Medley Barrett's Royal Nomads band concerts. Or to the Dufferin Hall to hear the Merry Mauve Melody Makers home on leave from the trenches. There were also fireworks displays and regattas, astutely sponsored by the Belfast and County Down Railway. The Railway Company also carried prospective holiday audiences by paddle steamer from Belfast, until shortly after the outbreak of war when the PS Slieve Bernard and PS Slieve Donard were requisitioned for mine-sweeping duties.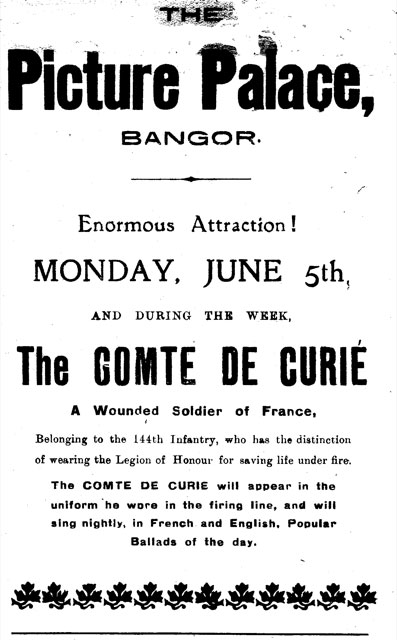 The Picture House, Main Street, Bangor, provided entertainment all year round and typical of its programmes was an English Picture Play which one could view for 3d, 6d, or 1s,
"LIEUT ROSE, RN, AND THE SEALED ORDERS …
SEE:
The wild backward career of a carriage (Containing Lieut. Rose) down a steep hill into a deep canal.
The ruse by which he succeeds in gaining admission to a flying train.
Him tied in a postal sack and caught in the net attached to the mail Train.
The terrific struggle in the saloon with the spies he has tracked down."
The main feature was supported, as always, by "a strong programme".
A more sumptuous seafront Picture Palace was opened in March 1915 promising, in addition to a rustic arbour and plush seats, "a main entrance open to all patrons, no distinction being made, a feature which democratic Bangorians will appreciate."
In winter, those of a cultured turn of mind could spend an evening in the company of the Spectator's proprietor, Mr David Alexander, at the Bangor Literary Society. Its Annual General Meeting in September 1915 heard a report that the average attendance was eighty-three and the year's programme had included Reverend HJ Rossington's topic "Bavaria, its Land and People, beautifully illustrated with Lantern Views, which was intensely interesting and instructive." Slide shows were evidently a regular feature as 'Honorary Lanternist' was listed as a committee position.
Another lecture with limelight views that drew a large audience was that conducted by Lieutenant AE Spry, Royal Naval Volunteer Reserve. Reported as hosting a "Great Naval Night", Lieutenant Spry, under the auspices of the Admiralty, explained the work of the Navy past and present, being interrupted patriotically at intervals with "Applause" and "Loud Applause". The fact that the object of the show was clearly recruitment for the Navy did not appear to detract from the evening's entertainment.
In 1914, Carnegie Library's Annual Report gave the number of books issued at 13,963, but it was noted with regret that these were mostly of a frivolous nature. Only eighty on science and fifty-six on poetry and drama had been requested.
Bangor was a clubby sort of town. It supported a brass band, harmonic society, operatic society and male choir. There was bowling, sailing, hockey, tennis, golf, rugby, football, table tennis, lots of swimming, pigeon racing and a Goat Society. Organisations included the celebrated first Scout Troop to be formed in Ireland (1908), Girl Guides, Masonic Lodges, White Ribboners, Theosophists, and the Royal Antediluvian Order of Buffaloes.
During wartime other groups formed to support the troops by sending parcels, knitting socks and gloves and rolling miles of bandages, starting First Aid and allotment clubs. Some collected sphagnum moss for field dressings, better for absorbing blood than cotton wool. Others collected Brazil and walnut shells and conkers for use in gasmasks. Around 3000 tonnes of conkers were collected by Britain's children in 1917.
If none of these organised activities appealed you could join other residents of the town who would gather to watch the rush for the last train to Belfast on Sunday evenings. The writer of the Spectator column, Town Tattle, observed that "the hobble skirt has been responsible for more than one missing the last train". Energetic antics of the "late ones huffing and puffing" were recommended as an amusing spectacle. For myself, I would have enjoyed attending the local court case where an alleged theft of a rooster necessitated an identity parade of chickens.
For now, November 2020, we can only hope that online meetings, Skype, Zoom, and all our technological advances can fill in while waiting for the present pandemic to subside. Then we can all get back to meeting our friends and pursuing our interests, in particular on the second Thursday of the month, 8pm at Bangor Historical Society.
All Articles