The Curious Case of Tom McMahon, the Bangor Rower

Recently there has been publicity locally for the intrepid Donegal man Henry O'Donnell, who is attempting to swim round Ireland for charity.
Recently there has been publicity locally for the intrepid Donegal man Henry O'Donnell, who is attempting to swim round Ireland for charity. His accompanying boat, the Tor Dearg (below), has been in Bangor marina and also in Donaghadee harbour.
This reminded me of the venture of a Bangor boatman, Tom McMahon, who attempted to row round Ireland in the 1890s.
At that time Bangor like all seaside towns contained seafaring families: Scott, McMahon, Ferguson, Burns, Skimin and others. Many of them lived in the aptly named Fisher's Hill, now Victoria Road. (As far as I know one descendant of such families is employed in the marina, and that is all.)
The North Down Herald reported McMahon's adventure. He seems to have updated those ack home by telegram or letter (a telegram would be almost as efficient as an email nowadays!) At first progress seems to follow what might be imagined … some days more than others, depending on weather, tides and his strength. He follows a clockwise course.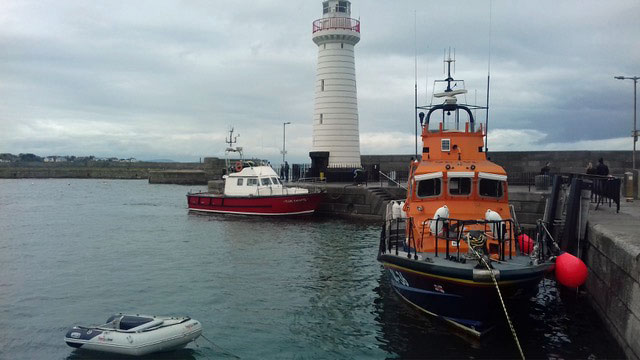 But then odd things start to happen. The newspaper begins to introduce a note of scepticism, increasing to incredulity. McMahon's reports begin to border on the astonishing, then the superhuman: 'today I left the mighty Cork harbour bright and early with a favourable tide and wind and by nightfall, though almost exhausted, I made landfall in Galway city…'
No better man could have been the editor for a curious case like this than WG Lyttle. Famous for Betsy Gray, Sons of the Sod (currently being broadcast on Radio Ulster) Robin's Readings and others, to my mind his writing is at its best when having fun at others expense in his own paper – satirising the deeds of the Town Commissioners (especially his foe 'Butcher Bowman') and at times purely indulging himself with bogus stories, 'fake news' of the day! (He would record speeches that people never made, and even imaginary civic events, down to painstaking details of the menu!)
He has great fun commenting on the phenomenal feats of McMahon. Considering a rower can only have the tide with him for six hours, 20 miles in a day is probably the best can be hoped for. McMahon began reporting stages ten times that long. I wonder did he become reluctant to admit to failure? In 1968 the English yachtsman Donald Crowhurst embarked on the round-the-world Golden Globe race. He secretly abandoned the race while continuing to report false positions rather than face return and what he saw as humiliation. Eventually his boat was located but without its occupant.
What became of McMahon and how his epic voyage ended I do not know. People have rowed round Ireland in recent years … a team took five months a few years ago, and there is a book about circumnavigation by kayak On Celtic Tides by Chris Duff (1999). Good luck to swimmer Henry O'Donnell!
All Articles