Miscellaneous Articles on Local History
Captain STS Lecky, Master Mariner, Commander RNR, FRAS, FRGS
Andrew Jaggers

---
Papers from the archive of PRONI have recently surfaced in connection with the life and times of the above Ulsterman whose name as a mariner became extremely well known among seafarers, both naval and merchant, around the world. An article on Captain Lecky written by Captain RH Davis, who also seems to have been well known in local shipping circles, looks to have been first published in a Belfast newspaper. The document archive date is shown as 1.1.1940, ID 9804309.
According to the article, the grandly named Squire Thornton Stratford Lecky was born at Ballyholland House in Holywood in 1838. It is not clear where this house was located and it may possibly have been in Bangor or even near Newry? He was educated at Gracehill School, Ballymena and in Brighton.
It is thought likely that he would have gone to sea at around 16 or 17 years of age and over the next ten years he served in a wide range of ships and trades around the world, gaining the required qualifications including a Master's and Extra Master's certificate. He also joined the Royal Naval Reserve and rose to the rank of Commander. Later, he commanded steamers trading around the world, including South America via the Straights of Magellan, making many surveys to inform and improve charts in that area.
The death of his father, Holland Lecky, is recorded as 12th October 1854 and his grave is in Bangor Abbey. It is described as a small marble tablet in a sandstone surround, lying flat beside Henry HOOPER's stone. "In memory of Holland Lecky, Co. Derry and Ballyholland House, Co. Down, who died at Armagh on 12th October 1854 aged 60 years. His remains lie here interred with those of his eldest son Holland Hyacinth Lecky who died at Holywood on the 14th May 1839 aged 21 years. This tablet is erected by Squire, son of the first named."
In 1878 Lecky's home was at Portneen, Portrush, when his only son, the late Captain Halton Sterling Lecky, CB RN, was born. (This property looks to be still standing and advertised as being available to rent on Airbnb!)
Lecky is best known for his publications, the most well-known being Lecky's Wrinkles in Practical Navigation, which ran to an impressive 21 editions, providing valuable information and experienced comments on a range of world-wide navigational issues to merchant and naval users.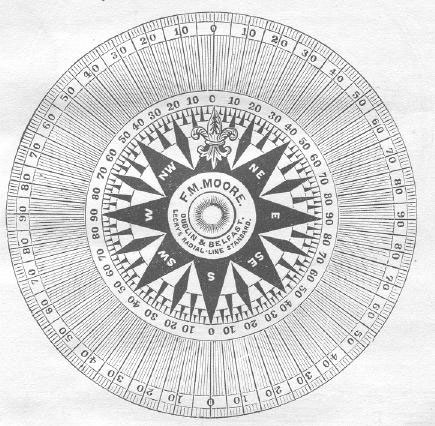 Lecky's magnetic compass card divided into four 90 deg sections (from Wrinkles in Navigation)
In 1902 failing health compelled him to seek residence in the sunnier climes of the Canary Islands, where he died later that year. (He was reported to be buried in the English graveyard in Las Palmas, but at first glance there does not appear to be a record of this.)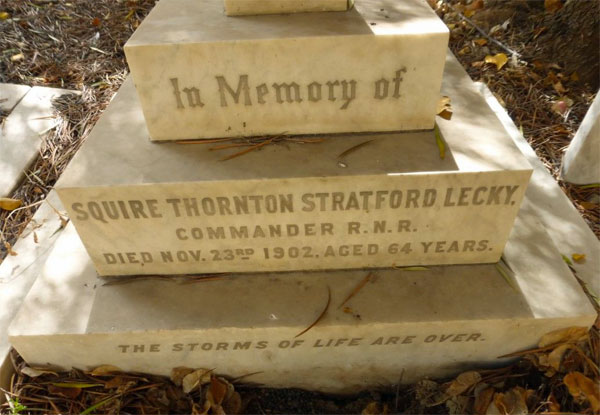 The grave in Las Palmas (Photo: John Amador-Bedford)
In 1914, the Royal Navy's Admiralty Manual of Navigation became the Standard Work on Navigation for the information and guidance of the Officers of His Majesty's Fleet. Included in the preface and the list of books consulted was Wrinkles in Navigation by Captain STS Lecky, FRAS, FRGS, RNR.
The 19th Edition of Wrinkles, with 136 illustrations and plates, was issued in 1917. It extends to 822 pages (in quite small print) with glowing references provided at the end of the book, together with promotional information regarding the provision of the work to the United States Navy and adoption by Trinity House London as well by large shipping companies of England.
Lecky's name lives on in many references - in 2004 for instance, Alan Gurney, an American yacht designer and sailor, wrote an excellent book on the subject of the development of the compass- with reference to Wrinkles as being "influential" over its twenty editions in forty years.
All Articles