Home Fires: Bangor in the Great War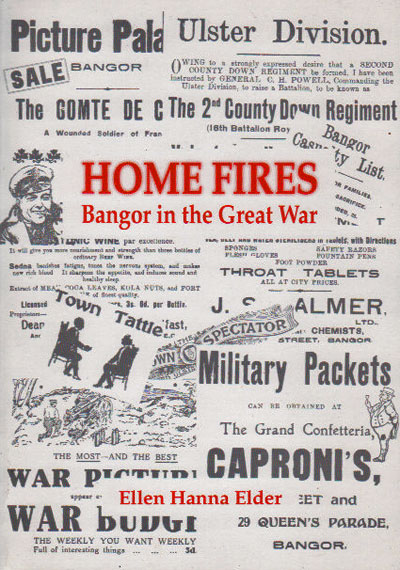 Ellen Hanna Elder
978-0337087592
Pages: 108
Preface
This little account of the northern Irish town of Bangor during the Great War does not claim to be definitive, complete, or purport to be an accurate history of that conflict. It is written from the perspective of a townsperson reading their local newspaper, The County Down Spectator and Ulster Standard during the years 1914–1919. The serious historian may find great disparities between what he reads here and what he may find in official accounts. Indeed war correspondents were often issued with "authorised" versions of events to send home from the Front, particularly relating to casualties; reports which later were acknowledged to be, at best, incorrect, if not directly designed to manipulate the public's perception of the war.
Pedantic readers should also take note that the items reported are entirely and unashamedly biased in favour of what I found interesting. I have tried where possible to check dates and references, and to quote other sources to put things in context, but what I wanted to do was to study how the townspeople as a community learned about what was going on abroad as they went about their business in those dark days of war.
The account, however subjective, is valid in that the local population, in the absence of home radio, was receiving the bulk of its information about the war from their local daily and weekly papers. In the Spectator, a weekly journal, there are gaps in the chronology of the war and it is sometimes frustrating in that items from one week to another cannot be followed up. As well as news being covered by a daily newsheet, items may have had to be dropped from the Spectator because of the chronic shortage of paper. Occasionally I have strayed into other publications for supporting or relevant information, as indeed contemporary readers of the Spectator must have done. A popular picture weekly, for instance, was the War Budget, advertised as "full of interesting things" and "chockful of fascinating pictures", at 3d per week.
I have no doubt that the citizens of those years read their paper much as we all do, being distracted from war news by quirky and interesting articles. One such was a tragic story, recycled from the Sudan Times, about an elephant who choked to death on a trunkful of frogs that had taken up residence in his neighbourhood waterhole. Another article tells of Prince John, youngest child of King George V, threatening to embarrass his mother the Queen by standing up in her carriage and shouting at the crowd, "Votes for Women", when he didn't get something he wanted.
Want to know what happened to the cow which entered Bangor Town Hall? It was beaten off by a paste brush wielded by the caretaker; just one instance of cattle being a hazard in Main Street. They seemed to wander at will visiting ballrooms as well as china shops.
There was also an hilarious account of a riot in Castle Street when neighbours fought each other with saucepans and pokers over the ownership of a clothes line. I wonder if they had read of the Frenchwoman who had been electrocuted by her laundry when lightning struck the tree to which her line was attached?
And makeover TV programmers (as well as the USPCA) might be interested in the lady who dyed her cats to match the furniture. There must be an Irish joke somewhere about the headline regarding the Belfast lady who escaped being boiled in a cannibal stewpot – perhaps she had threatened to eat the spuds?
Readers today may similarly be diverted by headlines over small court reports or letters to the editor as they leaf through the pages looking for their favourite columns on green issues, sports news or situations vacant.