The Rhyming Weavers
Report by Ian Wilson

---
At their monthly meeting of 11 October, Bangor Historical Society were treated to a splendid illustrated talk by Laura Spence on The Rhyming Weavers of Co. Antrim and Co, Down in the late 18th and early 19th century, and their successor, the Rev. W. F. Marshall of Sixmilecross. A rapt audience numbering over 70 also enjoyed a brief foray into Ulster- Scots vocabulary, the speaker asking how many people today used words like 'fornenst', 'blether' and 'scunnered' !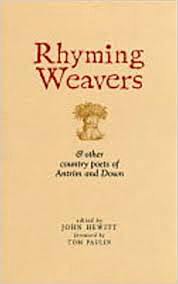 The work of the weaver poets who flourished at the same time as Robert Burns in Scotland was almost completely forgotten until 1974, when the eminent Ulster poet John Hewitt produced a book Rhyming Weavers and Other Country Poets of Co. Antrim. This is still available. It was such a recovery job by John Hewitt that some academics of the time refused to believe printed volumes of verse existed from those times, until the author revealed them to be in the Linen Hall Library ! Publishing was not the same commercial operation as today : interested people would be asked to subscribe so that a sum could be raised for printing, and their names were acknowledged in the book. James Orr, 'The Bard of Ballycarry' is generally thought the premier poet of the time. Sadly, he died in poverty.
Closest poet to Bangor was Alexander McKenzie ( 1780 – 1839 ) The Bard of Dunover, Dunover being a townland between Carrowdore and Ballywalter. 'The Gannaway Burn' is perhaps his best - known poem.
The speaker continued into the 20th century with the Rev. W. F. Marshall, the Presbyterian Minister from Sixmilecross, Co. Tyrone, where his father had been headmaster of the National School. Rev. Marshall's BBC broadcasts were popular in the 1940s and 50s, his most fondly quoted poem probably being Livin' in Drumlister. Laura Spence made a point of emphasising the strong influence on Seamus Heaney of the language of the Ulster countryside.
Aided by sound recordings and a generous selection of slides, the talk was greatly enjoyed by all.