Northern Ireland and Tierra del Fuego

Captain Mahood of Portavogie and the crew of the River Laganwere shipwrecked on uninhabited Staten Island for six weeks; and then there is Captain Robert Fitzroy of the Beagle.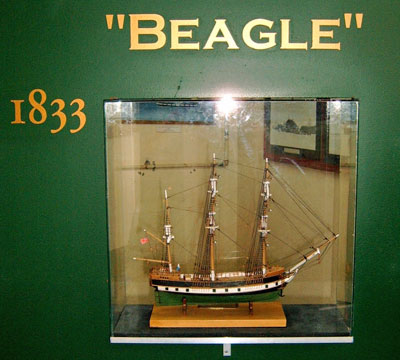 My birthday, being Trafalgar Day (21st October but not 1805), I have always had an interest in the sea. My father and two uncles all served in the navy and I had an ambition of becoming a Wren. Somehow this didn't quite work out but I did once have a job in a Lowestoft ship chandlers.
So, if like me you're interested in maritime history you may have read about Neill's barque, River Lagan, sunk off the coast of Tierra del Fuego in 1885. Her master Captain Mahood of Portavogie and his crew were shipwrecked on uninhabited Staten Island for six weeks. It's not often that you hear Northern Ireland and Tierra del Fuego mentioned in the same sentence, but local historical connections mean we can do this twice.
What's the other local connection with the afore-mentioned Tierra? Think Fitzroy, the only sea area named after a person. Born 1805, Robert Fitzroy's mother was Frances, daughter of the 1st Marquess of Londonderry of Mount Stewart. His father, Lord Charles Fitzroy, was descended from Charles II and Barbara Villiers. Named for his uncle, Robert Stewart, Lord Castlereagh, young Robert passed out of the Royal Naval College at 14 with full marks, the first ever to do so. He was made youngest (acting) Captain of the Beagle at 23, his captain having committed suicide whilst in Tierra del Fuego.
At 25 he again had command of the Beagle and invited Charles Darwin to join the voyage as gentleman companion and naturalist. Darwin was 23, a member of the Glutton Club, son of a Whig country doctor, and the complete opposite of Fitzroy when he embarked on the voyage that would not only change his life, but initiate the greatest debate of all time – the origin of species. He clashed with Fitzroy's fundamentalist views and this led to a split in their friendship in later life when his theory was published.
The Beagle was hardly large enough to be called a ship. A mere 90' long, and referred to as a coffin brig, her rail was only 6 feet out of the water when fully loaded. The Southern Ocean regularly has 60' waves (we can vouch for this). Sailors had 12" width for their hammocks, and officers 18". Darwin had to remove a drawer from a cabinet in order to stretch out in his bunk in the miniscule cabin he and Fitzroy shared.
The ship's mission was to survey the coasts of Argentina, the Falklands, Patagonia, Chile and the Beagle Channel (discovered on the first voyage), and to carry out a chain of chronometric observations around the globe, some of which were previously guesstimates. Fitzroy had authority from his superiors to name outstanding geographical features but told to give them "suitable" names, not "soapsuds cove" because the crew did their laundry on the beach. So consequently we have Stewart and Londonderry Islands at the Pacific end of the Beagle Channel, and a Cape Castlereagh in the area also.
The voyage lasted nearly five years (1831-1836), instead of the projected two, with many exciting adventures along the way. The charts which Fitzroy produced so meticulously were used until just before the Second World War. He developed a method of weather "forecasting", and coined that term. He also distributed forecasts to the newspapers, another first.
He invented a barometer, has a dolphin, a mountain, a barometer, a tree (see specimen at Mount Stewart), and various rivers and other geographical features named after him. He instituted the seamanship certificate for Masters of vessels. His theory of weather forecasting using sunspots is still scorned, as was his weather forecasting in its day, by officialdom, who are today 75% accurate with long range forecasting. A private weather forecasting outfit who use his sunspots theory is said to be 82% accurate!
He was one of the first supporters of the Lifeboat service. He changed "larboard" to "port" to distinguish it from "starboard" in a noisy storm. He called a jollyboat a dinghy. He introduced lightning conductors on ships' masts.
Later Fitzroy was given the governship of New Zealand, but no budget. He spent £400,000 (his entire fortune) on items for the public purse to benefit others, because his superiors would not finance them, and when he died his family were supported by charity. His second wife and his youngest daughter were given a grace and favour apartment at Hampton Court Palace by Queen Victoria in gratitude for the personal weather forecasting he did for her when she wanted to travel to Osborne on the Isle of Wight. Fitzroy, a lifelong manic depressive, was consumed with guilt at his many failures, amongst them the attempted conversion of the Fuegian natives to Christianity, and committed suicide at 59.
Our trip to Antarctica included visits to Tierra del Fuego and the Beagle Channel and increased our respect for sailors who venture to the Southern Ocean. We worried about Ellen McArthur, sailing in the area at the same time our ship the MV Discovery was negotiating the infamous Drake Passage back to Cape Horn.
Looking at night through the porthole at Icebergs larger than the ship we endeavoured to ignore the strains of Nearer My God to Thee echoing in our brains. It was rough enough for the crew to hand out sick-bags along with the dinner menus, but our training on the Larne-Stranraer. Heysham & Liverpool routes stood us in good stead and we were able to maintain our sea-legs, and our dignity, throughout the storms. Thank you Burns & Laird!
Recommended easy reading
Harry Thompson's This Thing of Darkness – a brilliant account of the relationship between Fitzroy and Darwin; factual information written in novel form, available in paperback.
Also: A little box made out of Beagle timbers can be viewed at the National Maritime Museum. Darwin's Galapagos giant tortoise, Harriet, 176, died in the Australian Zoo, Queensland in 2006, having emigrated with a member of the Beagle's crew.
All Articles