The Covenanters
Report by Sandra Millsopp

---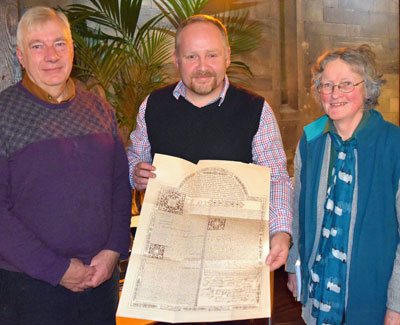 On 10 November 2016 Bangor Historical Society welcomed a large crowd to hear a lecture by Mark Thompson. His subject was the Scottish Covenanters. He explained that he grew up with stories of the covenanters in his home on the Ards Peninsula. Many covenanters fled persecution by coming to Ulster. Books and novels on the subject were once common.
The name covenanter was applied to those who had signed the covenant in 1638. Today the religion is known as the Reformed Presbyterian Church.
In Scotland the Reformation had led to the spread of the Presbyterian Church due to the work of John Knox and others. James VI did not like its ideas of equality so persecution began. Some people went to Ulster to join Scots already there such as James Hamilton of Bangor and Hugh Montgomery of Newtownards. Among the ministers to arrive was Robert Blair who came to Bangor. His first wife Beatrix is commemorated at Bangor Abbey. By the early 1630s the bishops were putting pressure on the Presbyterians and this led to the failed attempt in 1636 to reach America in the Eaglewing.
Meanwhile in Scotland Jenny Geddes protested when King Charles I tried to impose the Prayer Book in Scotland. Many signed the Covenant in protest in 1638. It was soon circulating in Ulster. The Black Oath was introduced by the government: all over 16 had to sign denying Presbyterianism. In 1642 the first formal Presbytery in Ireland was established at Carrickfergus. In 1644 the Solemn League and Covenant was brought to Ulster and soon 16,000 signed.
Meanwhile in England Civil War had resulted in the execution of Charles I in 1649. The return of King Charles II in 1660 led to renewed persecution of the Presbyterians and 61 of 68 Ulster ministers were ejected. In Scotland persecution of the covenanters became very bad. It was led by people such as the King's brother, James, Duke of York and John Graham of Claverhouse. Many were killed. One notorious example occurred in 1685 when two women, arrested for attending an unauthorised meeting, were tied to stakes at the edge of Solway Firth until they drowned. Margaret Wilson was only 18. Another victim of the 'Killing Times' was the Marquess of Argyll who was executed in Edinburgh in 1661. A monument in Greyfriars churchyard in Edinburgh commemorates 18,000 martyrs: some executed, others imprisoned or forced to emigrate. Some sought safety in Ulster.
Under William III things improved, but not enough for the covenanters. Then Queen Anne started to introduce laws against them once more. As a result many went to America to find freedom of worship. Their love of liberty was praised in the early 1900s by Carter G. Woodson, the first black man to have a doctorate.
In Bangor Abbey graveyard there is a memorial to two covenanters who died in the early 1850s.