The Life of Emma Duffin
Report by Sandra Millsopp

---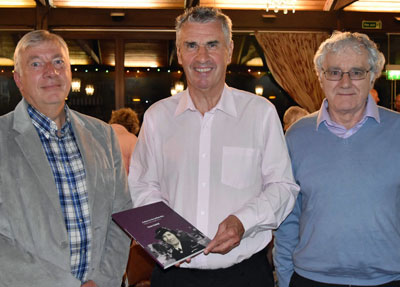 Bangor Historical Society's opening meeting of the 2016-17 season was held on 8 September in the North Down Museum. The speaker was Trevor Parkhill who had worked at the Public Record Office of Northern Ireland and then at the Ulster Museum. His subject was Emma Duffin who had served as a nurse in both World Wars.
Emma was born in 1883, one of seven daughters and two sons of a Belfast stockbroker. She had been educated at Cheltenham Ladies College and spent a year in Germany as a governess before the war. During the First World War she served as a VAD nurse in Egypt and then France. She tended the wounded from the Dardanelles campaign.
She illustrated children's books, mostly those written by her sisters. Between 1933 and 1953 she was Hon. Secretary of the Belfast Council of Social Welfare. During the early years of the Second World War she kept a diary, recording her experience of the Belfast blitz. In March 1940 she became commandant of the VAD unit based at Stranmillis Military Hospital. She listened to BBC radio broadcasts, but also those from France and Germany on long wave.
Many people believed that Northern Ireland was too far away for the Germans to attack and it was badly prepared for any bombing. The situation changed when Germany occupied France and Belgium in 1940. On Easter Tuesday 15 April 1941 Emma was wakened by the sirens warning of a German raid. Some 800 people were killed when residential areas in North Belfast were the hardest hit. Two days later Emma travelled on foot to the top of the Oldpark Road where she was due to give a talk. In her diary she described the damage she witnessed with many houses reduced to rubble. Searches for casualties were continuing as others fled the area. She commented on the state of evacuees, including the dirt and lice which she considered a terrible indictment of social conditions. Her sister Molly asked her to help at St. George's Market where dead bodies were laid out for relatives to identify.
Emma did not like the increasing military control of the VAD nurses and she even wrote to Lady Mountbatten in protest. Later she was moved to the military hospital in Bangor, but it was not a good experience. She commented on the disgusting lodgings in the town, but was fortunately able to stay at night with her sister in Holywood. After the war she continued various charity work and died in 1979 aged 95.
Throughout the talk reference was made to events in Bangor. Incendiaries fell on the town in September 1940. During the 1941 blitz 14 bombs were dropped on the town and five people were killed in Ashley Gardens. The basement of the Carnegie library was used as a morgue. The Spectator newspaper pointed out that the blitz had shown the destitution in the poorer parts of Belfast and something needed to be done about this.