The Life and Times of Richard Hayward
Report by Sandra Millsopp

---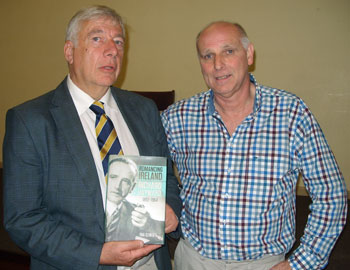 The opening meeting of Bangor Historical Society was held on 10 September 2015. Paul Clements gave a very interesting talk on Richard Hayward, the subject of his biography Romancing Ireland. The talk began with short extracts from some of the films Hayward made including his version of 'Six miles from Bangor to Donaghadee'.
Mr. Clements then explained Richard Hayward's connections with Bangor. He lived in Belfast, but his house was damaged during the blitz and the family moved to the Crawfordsburn Inn. Later they moved to Killaire House, then to a house beside the post office at Ballyholme. Finally they rented a bungalow in Baylands.
Richard Hayward's grandfather had run a foundry in London which made manhole covers and pavement lights for basements. Hayward himself was born in Southport in 1892 and three years later the family moved to Ireland where his father Walter was involved with a marine engineering firm.
Hayward lived in Larne as a boy where he enjoyed the bustle of the town as well as the countryside, the Gobbins and Island Magee. A maid singing in Irish inspired his love of traditional music. In 1915 he married Elma, a talented actress.
In the 1920s and 1930s he was the manager of the Ulster Players and acted in plays as well as broadcasting on the local BBC. He also wrote plays and performed in Dublin. He began recording songs, including Irish traditional music and Orange ballads. Decca issued many recordings and we were shown the record covers such as Irish Saturday Night. He was very popular, although not in the same league as John McCormick.
In the later 1930s he made films in which he also acted. His first film was Luck of the Irish in 1936, the first black and white talkie set in Northern Ireland. One of his films included a fifteen-year old Dinah Sheridan in her first leading role. In 1958 he had a cameo role in A Night to Remember.
He then turned to writing books which were filled with local history, architecture, landscape and antiquities. His first travel book was In praise of Ulster for which J. Humbert Craig provided 48 drawings. His books were very popular. Between 1949 and 1964 he published five books in the This is Ireland series. There was one for each province with two on Connacht. The illustrations were by Raymond Piper. Hayward was also deeply involved with the Belfast Naturalists' Field Club. He was president 1951 – 1952 and organised outings for seventeen years.
For thirty nine years he was a confectionary salesman for Needlers' chocolate and this gave him a regular income. His wife died in 1961 and he then married an old friend, Dorothy Gamble. He was killed in a road accident in 1964 when he was on his way to Ballymena. It is thought he had a heart attack.