Circe's Garden, Mount Stewart
Report by Sandra Millsopp

---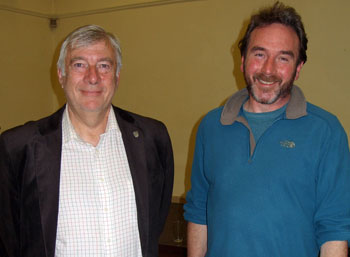 The 2015 October meeting of Bangor Historical Society was held on 8th in the Good Templar Hall. The speaker was Neil Porteous from Mount Stewart and he gave a very interesting, illustrated talk on 'Circe's Garden'. An air view of the estate enabled him to point out various features such as the canal designed to catch rainwater and feed it into the lough when the tide was out. A painting of c1872 showed the lake which had been created c1840 from a gravel pit and sludgy area. A photograph of the same period showed a plain garden with ilexes which were cut down when Lady Edith created the present gardens.
The work of Lady Edith was introduced by a painting of her in uniform c1919. She was already planning the new gardens at this stage, but work did not start until 1920. She had great energy, but she also enlisted the help of visitors to the house. She was a hands-on gardener whenever she was staying at the estate and worked closely with her head gardener, who was a genius at interpreting her wishes. She kept eleven notebooks and also photographs of the garden, which help the current gardeners to make changes which would be in keeping with her ideas.
One of the most famous features of the gardens is the Dodo Terrace. These statutes represent members of the Ark Club: her father the dodo and her husband the cheetah. Edith herself was Circe the sorceress. The National Trust is currently restoring the figures which were made of Portland cement, but without sand.
A photograph of 1922/23 showed the house and gardens but without the coat of arms on the house. Roses were not a success because of the sand of the raised beach on which the bed was created and a new rose garden had to be made. Edith loved scented plants.
Edith redesigned the Italian garden and sketches made from the roof of the house show her plans. She liked dramatic things, but had to be patient until the plants grew. The micro climate does mean that things grow in both the autumn as well as the spring and there are few frosts.
Tir N'an Og, the family burying ground, has statues of saints modelled by Edmund Brock and a relief based on a design for a tarot card by Maud Gonne McBride. The family were Unionist, but found no problem in working with others of a different political persuasion.
Today the gardens are beginning to get a sense of exuberance. Plants are replaced each year. Standards are mixed with low plants. The topiary figures such as the anteater are also being renewed. Future plans include the development of the recently acquired demesne and the walled garden.