Miscellaneous Articles on Local History
Bangor Christian Heritage Trail and Mobile App
Ards and North Down Borough Council

---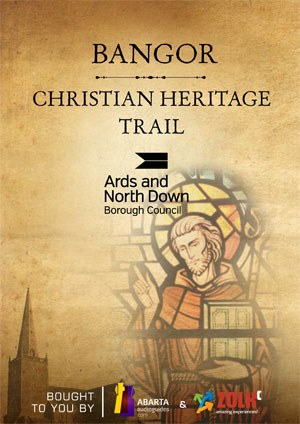 Step back in time with the new Bangor Christian Heritage Trail and Mobile App
Ards and North Down Borough Council, with support and funding from the Heritage Lottery Fund, are delighted to promote the recently established "Bangor Christian Heritage Walking Trail and Mobile App".
The trail, approximately 5km in distance, though it can be completed in shorter sections or individual sites visits, takes the user on a journey to key locations within the town that showcase the history and importance Bangor has played in the development of Christianity, not just domestically but throughout Europe, including the influence of Columbanus and Gall, Saints who left Bangor and made their mark in countries such as France, Switzerland and Italy by establishing monastic settlements.
There are nine sites in total on the trail starting at North Down Museum and including stops at Bangor Abbey, North Down Coastal Path and Castel Park Victorian Walled Garden to name a few.
A key feature of the trail is the accompanying mobile App that guides the user along the route via an offline map. At each stop along the trail the user can read about the specific site, view images past and present and listen to audio about the history of the location as they journey through over 1000 years of history and heritage. From the foundation of Bangor Abbey in 558 through to the role of the Ulster-Scots and the spread of Presbyterianism in the 1600's.The App is available to download for free from both Google Play and iTunes.
Also accompanying the trail is interpretational signage at each stop and for those who prefer a "traditional map" there is a booklet with map which you can download here.
Also utilizing the Heritage Lottery Funding guides have been trained to offer guided tours of the trail and these can be arranged directly through the Friends of Columbanus Bangor via their website, friendsofcolumbanusbangor.co.uk
For further information contact Bangor Visitor Information Centre (028 9127 0069) or the Friends of Columbanus, Bangor.
All Articles