The Hidden History of Belfast
Report by Sandra Millsopp

---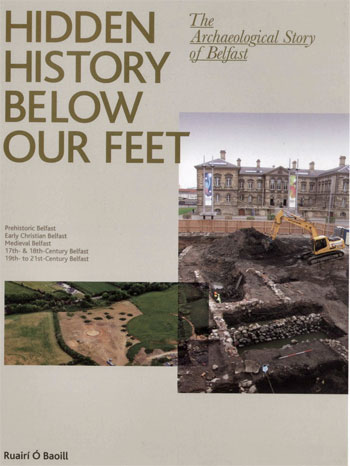 Bangor Historical Society began its 2012-2013 season with a very well attended talk on the hidden history of Belfast. The speaker was Ruari O'Baoill from the Centre for Archaeological Fieldwork at Queen's University who has written a book on the subject. He used reconstruction drawings from the book to illustrate various phases of the city's history.
The oldest complete standing building in the city, Clifton House, dates from the 1770s; yet there is a much longer history of settlement which archaeology can reveal.
There are 10,000 years of known settlement on the hills around Belfast and 800 in the city centre. In recent years Belfast City Council and the NIEA have encouraged excavation.
Traces of Mesolithic people from 7,000 to 8,000 BC have been found on various sites such as George Best City Airport. Recent work near Dundonald has uncovered traces of Neolithic peoples. Evidence for these first farmers includes pottery and stone axes. Religious/ burial sites include the complex at Ballynahatty[beside the Giant's Ring] excavated in the 1990s. The Bronze Age brought improved weapons and greater warfare. Hill forts were built on places such as Cavehill.
More information is available on the early Christian period, including the first literary reference to the area: the Battle of Belfast. Shankill Park was the site of an ancient church. Raths or defended farmsteads also date from this period. They may have had souterrains or underground passages for storage or defence.
The Normans arrived in the late twelfth century. Their most famous building is Carrickfergus Castle, but they also built mottes or earthen mounds with wooden towers. Examples can be found in Belvoir Park, Dundonald and Shandon Park.
The first reference to a castle at Belfast dates from 1262, but its exact site & format are unknown. It is thought that the core of the medieval settlement lay in the area bounded by the Rivers Lagan, Farset and Owenvarra. The church at Shankill is recorded in a document of 1306 with other subsidiary churches such as the Chapel of the Ford. People gave alms to the latter as they crossed the Lagan and it is thought St. George's Church in High Street stands on the site. The Bruce invasion of 1315 and the Black Death weakened the Norman hold on the area. Later the Clandeboye O'Neills built a castle at Castlereagh which was demolished in 1823.
Recent excavations have uncovered traces of an earlier Belfast such as medieval pottery at Cornmarket, a waterfront at Victoria Square, pottery and clay pipes from Pottinger's Entry and the glass works in east Belfast.
Early in the seventeenth century Sir Arthur Chichester was granted the lands of Belfast and the town acquired its first charter in 1613. The earliest map of the town dates from 1685 and shows streets, churches and the Castle built by the Chichesters.
Committee member Miss A. Brown thanked the speaker for a most interesting talk.