The Secret Listeners of Gilnahirk
Report by Sandra Millsopp

---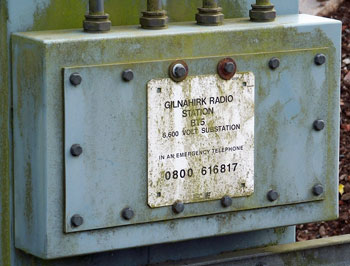 On 10 November 2011 members of Bangor Historical Society enjoyed a most interesting talk by George Busby. His subject was the Secret Listeners of Gilnahirk.
In 1938 as the prospect of war grew closer, it was believed that the German Abwehr was already recruiting agents in the UK. These agents would then use radio sets to keep in touch with Germany. The Illicit Wireless Intercept Organization was given the task of intercepting these messages. Three new listening stations were set up: Thurso in Scotland, St. Erth in Cornwall and Gilnahirk in Northern Ireland.
The Radio Security Service became responsible for the interception of messages. There was a shortage of radio operators and equipment so the Radio Society of Great Britain was asked to help. It had a nationwide membership of amateur radio operators with their own equipment. Members were approached individually and given a Morse test. If this was satisfactory they then became VIs or Voluntary Interceptors. They could tell no one, not even their families, about what they were doing. Local VIs included William Kerr, Robert Wright and Dr. Joseph Parke. They had to spend 2 hours out of 24 listening on the frequencies which they had been allocated. Everything they heard was recorded on logsheets. From 1942 Gilnahirk was run by the military. Direction finding equipment was used to try to establish compass bearings for the incoming signals so that their source could be identified.
Meanwhile the VIs continued their work. One of these was Professor T.P. Allen of Queen's University. We were shown a picture of one of his logs. The message which he had taken down had been encrypted on an Enigma machine and consisted of groups of five letters. These log sheets were put into two brown envelopes and posted to a box number in Barnet. Incoming logsheets were recorded, sorted and cross referenced at Oakley View. Then they were sent to Bletchley Park for decoding.
The information gained enabled Britain to feed false information to the Abwehr. One such effort was Operation Mincemeat which misled the Germans about the invasion of Sicily. Some captured Abwehr agents were turned so that they were sending back to Germany information supplied by British intelligence services. These methods were used to try to disguise the date and place of the Normandy landings in June 1944. The false information led Hitler to hold back German military reserves.
The wartime role of Gilnahirk ended in January 1946 and all workers had to sign documents agreeing not to disclose information about their work. Not till the 1970s did the work of the VIs become public. Mr. Busby has tried to track down relatives of the VIs and reveal the story of the Gilnahirk listeners. He appealed to the audience for help in this continuing task. Mr. Brian Kennedy proposed a vote of thanks for this fascinating talk.