Swimming the North Channel
Report by Sandra Millsopp

---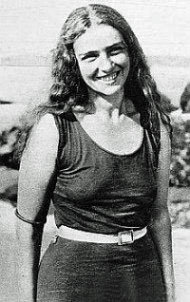 The last meeting of Bangor Historical Society in 2013 was held on 12 December. Brian Meharg gave an interesting, illustrated talk on attempts to swim the North or Irish Channel. He had accompanied many of the more recent swimmers. There have been a total of 95 swims starting from various places such as Donaghadee, Orlock and Islandmagee. The channel had a reputation of being unconquerable. Hazards include jelly fish, whales, rain, wind chill and even boats with no one in the wheel house.
The first man to succeed in reaching Scotland was Tom Blower in 1947. He was known as "Torpedo Tom". He came from Nottingham and left Donaghadee on 27 July in his second attempt that month. He swam through a hail storm and reached Scotland in a time of 15 hours and 26 minutes. Many other men also attempted the crossing, but failed. Major Jason Zirganos from Greece died in the water after refusing to come out when he was exhausted.
The first woman to attempt the crossing was Mercedes Gleitz (right) who made three unsuccessful swims from Donaghadee in the summer of 1928. On one attempt she had to be forcibly taken from the water. One of the most famous female swimmers was Florence Chadwick, an American, who made seven attempts between 1947 – 1960.
Mr. Meharg then listed the more recent swimmers and his own recollections of them. He explained that from 1966 the swims were supervised by the Irish Long Distance Assocation who checked the water temperature, the swimmer's intake, the conditions, speed and stroke rate.
Among the recent famous swimmers was Kevin Murphy who reached Scotland successfully in both 1970 and 1971. Mr. Meharg considered Alison Streeter the best distance swimmer in the world. She swam the English Channel 42 times and in 1988 became the first lady to swim the North Channel. She achieved it in a time of 9 hours and 15 minutes. In 1989 she succeeded in swimming from Scotland to Blackhead. In the same year Kevin Murphy became the first man to do this swim.
Long distance swimming was becoming more popular and a new challenge was developed of seven long distance swims in places such as New Zealand and it also included the English and North Channels. Steve Price was the first man to do all seven and in 2013 Anna-Carin Nordin, a Swede, became the first woman to achieve this feat (the video of her swim is to the right).
The crossing was also attempted by relay teams of between two and six. In 1989 a Welsh team abandoned the attempt as it was too cold and in 2005 a Channel Islands relay team called off their attempt because of sea sickness. Other relay teams have been more successful.
Mr. Geoff Reeves proposed the vote of thanks for a fascinating and amusing talk.