Lesson in schooldays of Bangor past opens Historical Society's season
Report by Sandra Millsopp

---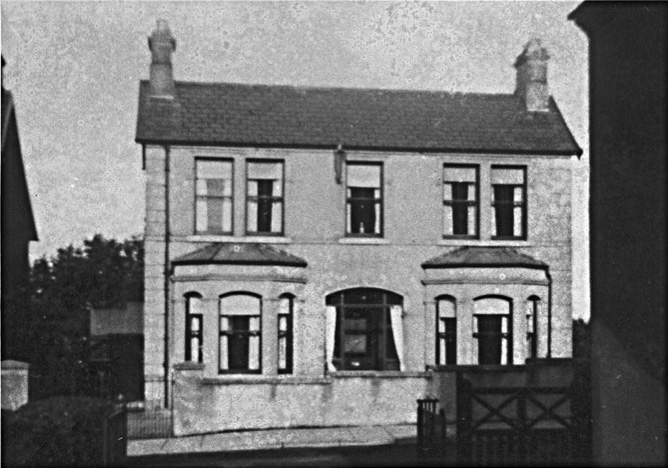 The First 100 Years of Bangor Grammar School 1856-1956
A slideshow of photographs from Trevor Gray's presentation on 11 September 2014
Bangor Historical Society's opening meeting of the 2014-2015 season was held in the new Bangor Grammar School building. The talk on the school's first hundred years was given by Trevor Gray, a former pupil, who has carried out extensive research on the history of the school. The meeting began with a welcome from chairman Bob McKinley.
Trevor Gray began his talk by explaining that the school owed its origin to Robert Ward who left £1000 in his will of 1828 for the establishment of a school to teach navigation and other subjects. It was not until 1856 that his grandson Robert Edward Ward and the head of the Ward family, Viscount Bangor, were able to start implementing the scheme.
The school opened in Main Street on what is now the site of the Bank of Ireland. It was known as the Endowed School. The first headmaster was Robert Gowdy the earliest mention of whom was in 1861. He was succeeded by William Huston Dodd who had been a barrister. By the time that Dr. Molony became principal in the early 1870s, the school had only 12 pupils. Two of these were Clelands from Rathgael and two were Nicholsons of Balloo. By the time inspectors reported on the school in 1879 the number of pupils had increased. The head, James Rainey was paid £60 pa and had two assistants.
In 1893 the first Board of Governors was appointed, with successive Viscounts Bangor as chairmen until the 1950s. By 1899 the school had 60 pupils and 4 assistant masters. It moved from its original building in 1898 and then occupied several sites including Ardmore in Seaforth Road, the Good Templar Hall and College Gardens. Finally a lease was taken of land in a new road which became College Avenue and the buildings erected which remained the home of the school from 1906 until recently. W.K. Crosby provided several donations of money towards the cost. The school continued to prosper under successive heads such as James McFeeters and Maurice Wilkins. Sport, especially rugby, had an important role at the school. In January 1938 the first complete uniform was adopted. The school also had its own badge with a gryphon, waves and stars. It later also had its own school song.
Former pupils and staff played a role in both world wars. 34 were killed in the first war and 39 in the second.
Mr. Gray concluded his talk by referring to more recent headmasters and to the celebrations which were held for the centenary of the school. These included lectures, a concert in the Dufferin Hall and a service in the Parish Church.
Ian Wilson, a former pupil, proposed the vote of thanks to Mr. Gray for an interesting talk.