Cootehill and Bellamont House
Report by Sandra Millsopp

---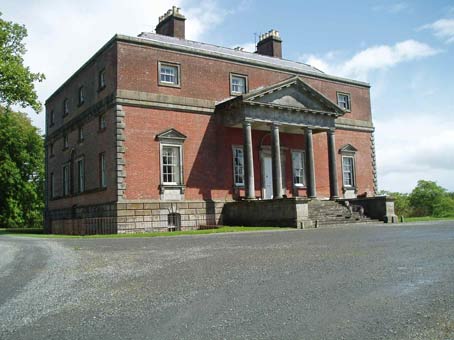 The town of Cootehill was built during the great Georgian era of urban development, and it derives its name from the marriage of Thomas Coote, a colonel in the Cromwellian forces, and Frances Hill from Hillsborough, Co.Down.
In 1725 Thomas Coote's nephew, also named Thomas, obtained a charter for holding markets and fairs in the town and in the same year work began on the building of his new mansion, Bellamont House. Designed by Lovett-Pearce, it was, and still is, regarded to be one of the finest examples of Palladian architecture in Ireland.
The present owner, Mr John Coote, was born and raised on his father's sheep farm in Australia. His great-grandfather, who had lived on a farm just 10 miles from the Cootehill estate, immigrated to Australia in 1904. The first that John Coote knew of Bellamont House was in 1962, when he read an article in Country Life. In 1987, during a weekend in Ireland, he discovered that the house was for sale, and, of course, he snapped it up.
Much of the 1000-acre estate has been restored to its original layout and the house, after much restoration, now reflects the grandeur and tranquillity of the 1700's.