The Belfast Barge
Report by Sandra Millsopp

---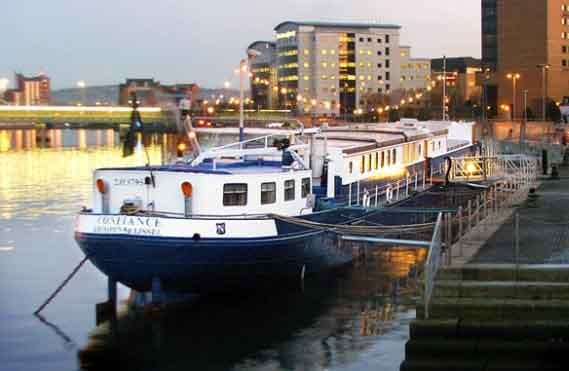 The Belfast barge, Confiance, is moored on the River Lagan near the Waterfront Hall. The barge is owned by the Lagan Legacy which focuses on the city's seagoing and industrial heritage. The organisation was set up in 2003 and the following year it bought the Dutch-built barge as no suitable local barge could be found. It is, however, similar to ones built in Belfast. Some of the fittings which were added to the barge came from Belfast-built ships such as the flooring and the doors.
After tea and scones members were shown a very interesting DVD called the 'Birth of a City'. Belfast is famous for the troubles and the Titanic, but there is much more to it such as the textile, ship-building and tobacco industries.
The early settlement developed because of the sandbank on the River Lagan where there was a ford. Other aspects made the site important such as the rivers Blackstaff and Farset which flowed into the Lagan from the surrounding hills. One of the earliest recorded events in the area was a battle in 666AD. The Anglo-Normans came in the late 12th century and built a small castle to guard the ford. A hamlet grew up around it and the Chapel of the Ford was built on the site now occupied by St George's Church. By the early 1500s the castle was held by the O'Neills.
In 1603 Sir Arthur Chichester received the land of Belfast and encouraged settlers from England, Scotland and the Isle of Man in order to develop his lands. The town received its charter in 1613. He developed the existing castle and added gardens and orchards. New streets were developed including High Street and Skipper Street. His nephew and heir became the first Earl of Donegall. During the 1641 rebellion the town defences were strengthened. In the 1680s the Long Bridge was built to replace the ford. In 1688-89 William III was welcomed to the area with bonfires. In 1708 Belfast Castle was burnt down and three sisters of the Earl of Donegall were casualties.
During the 18th and 19th centuries the town continued to develop. Ship building grew in importance while the white linen Hall of 1784 marked the growth of the linen industry. The Poor House was erected in 1774 and trained poor children in cotton spinning. Settlement began to develop on the eastern side of the river. New churches were built for the Presbyterians and the Roman Catholics. In 1798 Belfast was affected by the rebellion which led to the Act of Union in 1800.
Members then had the opportunity to view the exhibitions which included displays on Harland & Wolff, the docks and the people who worked there. There was also a time line of the history of the port. Oral histories were available on touch screens. There were models such as the Sea Quest and plans of the Canberra, the last Harland & Wolff ocean-going ship.